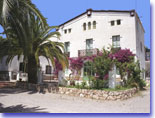 Completely renovated and enclosed tourist resort complex situated between Cunit and Segur de Calafell, comprised of housing and apartment units.

There is a swimming pool, fountains and gardens of green grass and mediterranean trees (palm trees, centuries pines, hibiscus, olive trees, orange trees and nisperos) in an enclosure of more than 6000 m2. A true oasis of peace in the mediterranean beach zone.

The resort is like a 3 star establishment that is an ideal destination for families with children, couples, groups and work retreats because of its proximity to Barcelona.

There is and old farm house from the XIX century that gives a rustic appearance to the resort. There is also a large saloon for meetings and/or assemblies that can accommodate up to 125 person, upon request.

Period of Operation: From 1 April to 13 October.

No animals permitted.

Approximate distances:

Beach and sea boardwalk: 700 mts.

Supermarket, shopping and restaurants: 200 mts.

Nearest train station (Segur de Calafell) with service to Barcelona and Tarragona: 800 m. (departures and arrivals from Barcelona every ˝ hour).

Barcelona: 45 kms.

Barcelona airport: 40 kms.
Cunit and Segur de Calafell are two tourist villages of sea origin, located in the Costa Dorada region to the south of Barcelona. They offer a full range of services to include shopping, restaurants and night clubs. They have fine sandy beaches, mentioned in "Europe Beaches" for their quality. The clean, shallow marine waters are rich in iodine and medically recommended for persons with respiratory or thyroid conditions. The temperatures are mild in the winter and moderate in the summer. There are more than 300 sunny days in a year.
Both villages are located in the center of very important cultural area (see activities).